Finding crossbows is not a big deal these days but finding the best suitable crossbow for yourself might be an issue especially if youre a newbie and have no knowledge of taking the kick start.
If is it so then you have reached the right place because today we have brought you the CenterPoint Sniper 370 Crossbow review from Procrossbow that will be addressing all the queries and concerns.
This crossbow had been a hot product within the whole crossbow market due to its capabilities, quality craft, and formation that is deliberately formulated while keeping our newbie crossbow hunters in mind.
Best CenterPoint Sniper 370 Review
The CenterPoint Sniper 370 is launched a couple of years ago and till today this crossbow is an apple of the eye of both mediocre and expert-level crossbow hunters, whereas the beginners are just mad at it.
First of all we would love to draw your attention to some of the key features incorporated within this crossbow that has made it a super crossbow for every beginner crossbow hunter within no time.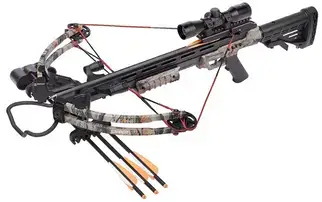 Width:
21-½" (Uncocked) 18"(Cocked)

Whereas the 370 FPS shooting speed of this crossbow is packed with lethal impact force that will add more to its efficiency for taking down any type of games without any inconvenience.
As long as the actual end-to-end length of this crossbow is concerned then you will love to know that this budgeted crossbow by CenterPoint comes along with an actual 40-inches length that makes it a full-sized crossbow despite being an affordable crossbow option.
Moreover, if you are concerned about the weightage of the crossbow because you will be carrying it for hunting. The actual weightage of this crossbow along with essential accessories is almost 7.9 LBS.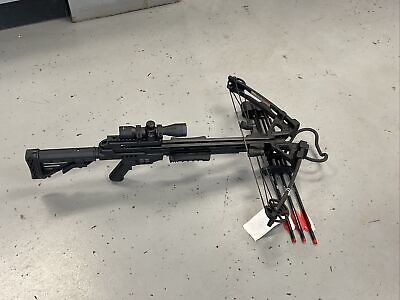 The CenterPoint Sniper 370 is featured with an efficient physical dimension that makes it fine cut for high-end hunting sessions because it has an uncocked width of 21-½" and an 18" cocked width with a PowerStroke of 13-½".
Collectively speaking, being the
best beginner-friendly crossbow
the CenterPoint Sniper 370 comes along with a draw weight of 185 LBS that can be drawn easily. Although the whole package costs around 260$-305$.
Pros
High Accuracy
Weightless
Dampened Shooting
Adaptable Stock & Holding
Best For Newbies
Cons
Assembling Instructions are a bit complex
Slightly stiff trigger
Package
Let's move forward towards the package itself because you might be concerned that after spending 260 bucks you will be having with this crossbow package.
Firstly the package includes a high-performance crossbow that has an 18-inches width along with 185 LBS for a shooting speed of 370 FPS.
Secondly, there will be an adaptable stock and foregrip with which you people can have an on-demand fitting for your shoulder.
Moreover, this crossbow will be delivered along with QUAD limbs that are featured with a highly-detailed cams system.
Moving on further, there is a machine-crafted railing with a shoot-through riser
The most appealing thing about this crossbow is its immaculate shooting facility that is dead-silent because of its suppressors that eradicates any vibration as well.
Weightage & Sizing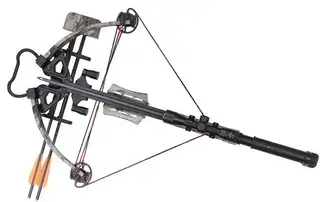 Now moving on towards the weightage and sizing of the CenterPoint Sniper 370 so that you can have an in-depth view of its usage and handling concerning its formation and dimensions.
Beginning with the axle-to-axle width of this crossbow which is comprised of 21 and a half inches along with 18 inches width when the crossbow is cocked along with the robust but weightless formation that provides convenient and effortless handling.
As the CenterPoint Sniper 370 comes along with an on-demand shoulder strap and adaptable buttstock and foregrip therefore you people can have its length adjusted according to their preference while using it with a stand or blind.
Formation & Built
Let's move forward towards the formation and building of this crossbow that plays the key role in bringing precision and accuracy within the hunting session so that you can have the best out of it.
First thing first, what makes it so dependable and robust? The prime reason behind the robust and rugged building of this crossbow is its CNC-machine crafted aluminum cam along with the railing system that is featured with a short-through riser.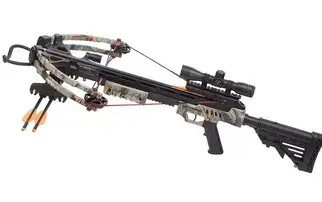 Moreover, the CenterPoint Sniper 370 has immaculate durability and dependability because the whole crossbow is crafted with highly-compressed fiberglass that gives it immense strength and toughness.
Therefore, all the latterly described specifications incorporated in this crossbow are combined for advancing the adaptability and handling, and strength of the CenterPoint Sniper 370 crossbow.
Did You Know
Presenting you the 7 best hunting crossbows for beginners 2023 that will be an amazing thing for you to pursue your newly opted hobby. Although the crossbow is indeed expensive we have brought you the best-budgeted freshman crossbows.
Moreover, these top-rated beginners crossbow reviews and ratings are formulated based on our expert's opinion that is well aware of the facts that what sort of crossbow is the best for newbie crossbow hunter.
Bolts & Pace
Let us take you toward the bolts featured within the CenterPoint Sniper 370 crossbow package and we will also tell you people about the shooting speed of this crossbow concerning bolts and stored kinetic energy.
As you have seen before that the draw weight incorporated within this crossbow is almost 187 LBS aligned with a Powerstroke having an actual length of 13 and a half inches that are putting up a shooting speed of 370 FPS.
The 370 FPS of shooting speed portrayed with this crossbow is quite enough for taking down any small, medium, or even big games that include grizzly, moose, elk, and buffaloes because of the shooting speed is backed with a lethal kinetic charge of 130 FP/KE.
Whereas the described and claimed shooting speed along with the kinetic charge is keenly subject to bolts used while shooting the target and the package includes 4 arrows of 20" along with 270 grains weightage and 100 grains field tips.
Sighting & Cocking
The most appealing and most crucial thing about crossbow hunting is cocking and sighting. As the crossbow package is packed with a premier-grade scope that has multiple reticulated calibrations along with a 4x32mm focal feature.
Whereas the sighting scope comes along with a dual sort of illumination that is red and green for tracking target to the exact point up to the shooting range of 40 yards along with 5-grade light adaptability.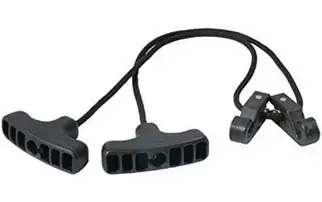 The calibrated scope with impeccable focal features lighted tracing for 40 yards and enhanced illumination alterations with which you can use the scope at night and even during daylight.
Now comes the 185 LBS draw weight seems to be a quite challenging thing for our newbie crossbow hunters but as we have told you before that this crossbow has a convenient cock draw weight because of its rope cocker.
While cocking this crossbow, the foot-spot is utilized along with the rope cocking device for reducing the draw weight to 92 and a half LBS which is almost a straight 50% cut down in draw weightage without compromising the shooting speed.
Trigger & Protection
While dealing with e high-impact crossbow that can pierce every sort of game then it is necessary to have a detailed check on its safety features for keeping you and your fellow hunters safe from any unfortunate moment.
Whereas this crossbow lacks any advanced safety features, this crossbow comes along with a lot of creep in its trigger that makes shooting an arrow a bit difficult for anyone though in case of immature firing you're safe.
Although there is another issue that seems to be very disturbing and that is dry-firing, therefore in this crossbow the dry-firing is eliminated efficiently with the incorporation of dry-fire inhibitor along with an ambidextrous protection feature.
Configuration & Scope Sighting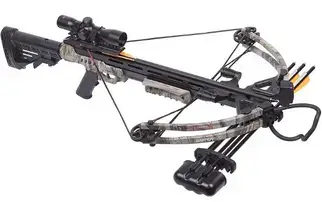 Now comes to the configuration and aiming facility of the CenterPoint Sniper 370 crossbow. This crossbow is featured with an immensely convenient assembling facility that is addressed every single detail within the assembling manual.
Despite being a detailed assembling manual the assembly manual of the CenterPoint Sniper 370 crossbow is too vague to understand that is featured as its negative. So it would be great to seek professional assistance for assembling.
Mounting a scope and aiming it might be an issue for most crossbow hunters but this crossbow scope has zero deviation therefore this crossbow scope can be sighted-in with precision and accuracy with a few shots.
Marching Test
The most appealing portion of our in-depth crossbow reviews is the marching tests that make us enjoy every crossbow while shooting to their extreme extent with variable shooting bolts.
For testing the range test along with the speed of CenterPoint Sniper 370 we have utilized the clock that has a speed testing range between 250-325 FPS. though we have utilized the pile driver bolts and you won't believe we have witnessed a shooting speed of 372.6 FPS.
Whereas we would like to commend CenterPoint that their craft is keenly featured with a dead-silent shooting facility with which every type of bolt can be shot without any noise along with maximum stability.
We have seen that this crossbow is featured with Whisper Silencing System and has premium suppressors along with tendon inhibitors, and limb mufflers that function together for eradicating the shooting noise.
Apart from the shooting noise, this crossbow has in-depth detailing for taking care of any sort of relative deviations that can influence your shooting precision and accuracy such as the rubber-coated stirrup that reduces the shooting vibration up to an advanced extent.
Collectively speaking, the CenterPoint Sniper 370 crossbow is packed with highly precise crafting and formation along with extensive detailing and a dampening system for keeping the hunting and shooting experience to an immensely amazing extent.
Watch "GI Outdoor"'s review on the crossbow
FAQs
What sort of shooting arrows suits best the CenterPoint Sniper 370 crossbow?
The stock package for CenterPoint Sniper 370 crossbow comes along with 4 arrows that are incorporated with a length of 20". Moreover, the arrows are comprised of actual weightage of 270-grain weightage. Though the makers have included and advised to use bolts with 100 grains field tips for cutting down any sort of deviation and nocking.
What is the actual shooting speed propagated with the CenterPoint Sniper 370?
While testing the range and speed of CenterPoint Sniper 370 we have used much lighter bolts that have given us a shooting speed of 372 FPS is 2 FPS much more than the actual claimed shooting speed. Whereas the stock arrows have propagated a shooting speed of 370 FPS.
Can we use an external cocking device for cocking the CenterPoint Sniper 370?
The CenterPoint Sniper 370 is featured with a rope cocking device that cuts almost 50% off its actual 175 LBS draw weight while making it only 92 LBS heavy that can be drawn easily with the incorporated aluminum cams.
What makes the CenterPoint Sniper 370 hold so much precision and accuracy?
The CenterPoint Sniper 370 holds immaculate precision and accuracy with the incorporated adjustable stock and foregrip along with on-demand QUAD limbs that are featured with a highly-detailed cams system along with machine-crafted railing with a shoot-through riser.
Summary
The CenterPoint Sniper 370 crossbow is probably the best entry-level crossbow for newbies as it comes along with high-end built grading and highly efficient incorporated features and mechanisms.
This beginner-friendly crossbow has indeed a convenient assembling facility whereas the assembling manual incorporates vague detailing that can make its assembling a bit harsh and inconvenient though better to ask an expert crossbow hunter for help.
Moreover, the flagship sort of dampening mechanism that is incorporated within this crossbow is just impeccable with which the whole shooting experience can be kept with zero noise because of Whisper Silencing Mechanism.
Collectively speaking this crossbow package costs a nominal price and features high-quality accessories and the crossbow itself. Whereas the whole package has 5 years restricted guarantee claim.